Many Yemenis are being apprehended and disappear into United Arab Emirate-run facilities, never to be heard from again. From Kathy Kelly at antiwar.com:
"If they would just confirm to us that my brother is alive, if they would just let us see him, that's all we want. But we can't get anyone to give us any confirmation. My mother dies a hundred times every day. They don't know what that is like."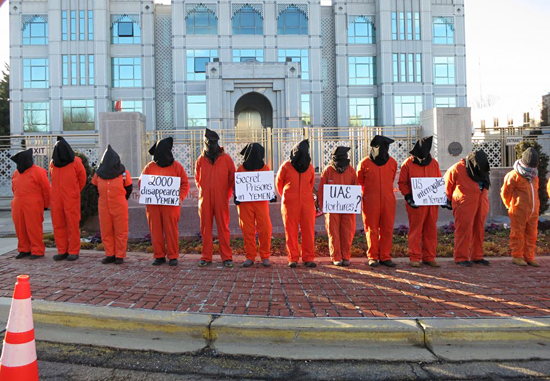 In July of 2018, an Amnesty International report entitled "God Knows If He's Alive," documented the plight of dozens of families in southern Yemen whose loved ones have been tortured, killed, or forcibly disappeared by Yemeni security forces reporting to the United Arab Emirates (UAE). The UAE is part of the Saudi-led coalition that, with vital US support, has been bombarding and blockading famine and disease-ravaged Yemen for three brutal years. The disappearances, and torture, can sadly be laid at the doorstep of the United States.
One testimonial after another echoes the sentiments of a woman whose husband has been held incommunicado for more than two years. "Shouldn't they be given a trial?" she asked. "Why else are there courts? They shouldn't be disappeared this way – not only are we unable to visit them, we don't even know if they are dead or alive."
The report describes bureaucratic farces in which families beg for information about their loved ones' whereabouts from Yemeni prosecutors and prison officials, but the families' pleas for information are routinely met with silence or intimidation.
The families are appealing to an unelected Yemeni exile government whose president, Abdrabbuh Mansur Hadi, (when "elected" president in 2012, he was the only candidate) generally resides in Riyadh, Saudi Arabia. The UAE has, so far, supported Hadi's claim to govern Yemen. However, the Prosecutor General of Hadi's government, as well as other officials, told Amnesty International the government of Yemen has no control over operations "spearheaded by the UAE and implemented by the Yemeni forces it backs."
When months and years pass and families of people who are missing still have no news about their loved ones, some try to communicate unofficially with prison guards or with former detainees who have been released from various detention sites. They repeatedly hear stories about torture of detainees and rumors about prisoners who died in custody.
To continue reading: US Supports Saudi-UAE War Crimes in Yemen