Trump called attention to the fact that US trading partners' tariffs are higher than those the US imposes. Isn't that to blame for the trade war, and not Trump's determination to do something about it. From Valentin Schmid at theepochtimes.com:
Everybody complains about Trump, but he wasn't the one who started it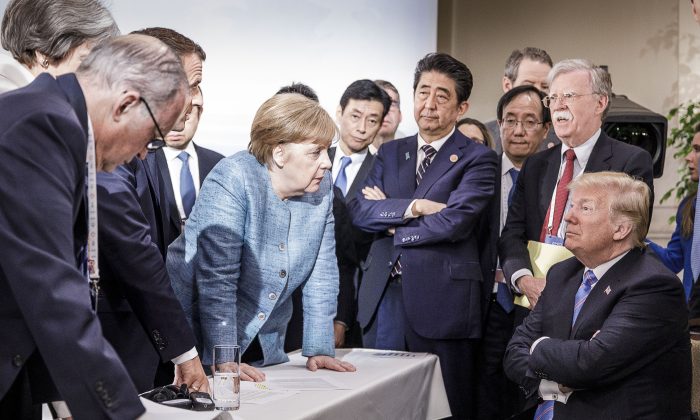 War is aggression, often with the use of physical violence to conquer land, people, and power. Trade wars, though not quite as bad, also are aggressive in nature. Where two or more private parties want to transact freely, aggressive governments step in the way and prevent trade from happening with the threat of force.
In 2018, most of the mainstream media and the establishment powers blame President Donald Trump and his administration for starting a trade war, which—like real wars—can only produce losers on both sides. "How Much Damage Will Trump's Trade War Do?" read a headline in The Atlantic, and countless other articles and official statements say similar things.
So the mainstream media and some politicians are pretending that trade was 100 percent free before Trump started to threaten the "free traders" of China, the European Union (EU), Mexico, and Canada with tariffs. The media paints Washington as the aggressor in this trade war. Trump shot first.
However, truth be told, this trade war did not start this year and certainly the United States isn't the biggest aggressor. In real war terms, the Americans are now starting to shoot back after being under siege for decades and the whole world is complaining about this act of self-defense.
As Trump wrote in a tweet before meeting the EU's Jean Claude Juncker on July 25, he doesn't want a war, he just wants the other side to stop shelling the United States.
To continue reading: Whose Trade War Is It Anyway?