Europe has turned itself into an American doormat. Wonder how long that will last. From Rachel Marsden at azerbaycan24.com:–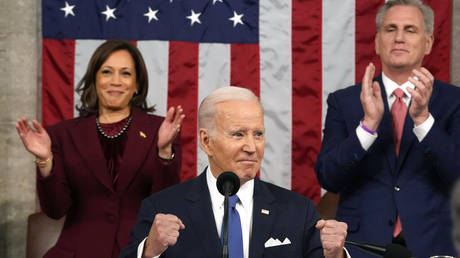 President Joe Biden delivers the State of the Union address to a joint session of Congress at the U.S. Capitol, Tuesday, Feb. 7, 2023, in Washington, as Vice President Kamala Harris and House Speaker Kevin McCarthy of Calif., applaud. ©  Jacquelyn Martin, Pool
The American president's annual address celebrated 'saving' Europe from the last remnants of independence Rachel Marsden is a columnist, political strategist, and host of independently produced talk-shows in French and English.Rachel Marsden is a columnist, political strategist, and host of independently produced talk-shows in French and English.rachelmarsden.comPresident Joe Biden delivers the State of the Union address to a joint session of Congress at the U.S. Capitol, Tuesday, Feb. 7, 2023, in Washington, as Vice President Kamala Harris and House Speaker Kevin McCarthy of Calif., applaud. © Jacquelyn Martin, Pool
In his State of the Union address earlier this month, US President Joe Biden referenced Europe several times, and the underlying message was always the same: Captain America has swooped in to save his Western allies from a horrible fate.
"Our nation is working for more freedom, more dignity, and more peace, not just in Europe, but everywhere," Biden said. Woah, slow your roll there, big guy. The world can only handle so much "freedom" after recent debacles in Afghanistan, Syria, Libya, and elsewhere. Europe was actually a pretty chill place as far as conflicts went, right up until Washington decided that it wanted to set up a flophouse for itself in Ukraine to better keep tabs on Russia, then managing to convince its European NATO allies to come help it move in and provide some weapons as housewarming gifts.
The result for Ukraine? "A murderous assault evoking images of the death and destruction Europe suffered in World War II," Biden described, conveniently ignoring the fact that this time around, it was Washington's NATO allies that trained the Nazis. "Canada's Joint Task Force Ukraine even produced a briefing on the Azov Battalion, acknowledging its links to Nazi ideology," according to the Ottawa Citizen.