Australia has had one of the longest running housing bubbles around, but it looks like it's popped. From Wolf Richter at wolfstreet.com:
It is rare that a housing market makes such a beautifully defined U-turn, after a long hard surge.
In Sydney, Australia's largest housing market and one of the world's biggest housing bubbles, prices of homes of all types fell 5.4% in July compared to a year ago, and 5.5% from the peak in September. Prices of single-family houses dropped 7.0%, and prices of condos ("units") fell 1.6%, according to CoreLogic's Daily Home Value Index: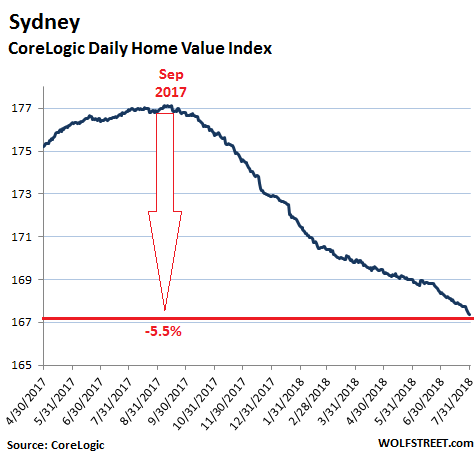 The most expensive quarter of the market got hit the hardest, with prices down 8.0% in July compared to a year ago. Across the so-called "most affordable quarter of the market" – "least unaffordable" would be more appropriate – prices fell by 1.8%.
And supply in Sydney is starting to come out of the woodwork: Total number of homes listed for sale in July, at 26,103, was 22% higher than a year earlier, and according to CoreLogic, the most since July 2012.
In the chart below, the number of homes listed for sale in 2018 is denoted with the black line. It's below only the blue line (2012), but creeping up on it. Note the seasonality, with listings getting pulled during the Christmas holiday period (chart via CoreLogic):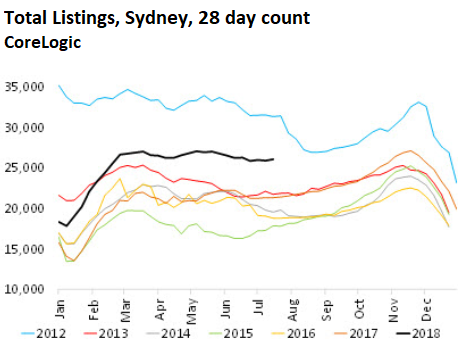 And so goes the rental market, where "conditions eased further in July," CoreLogic noted in its report: In Sydney rents fell 0.4% year-over-year. While that might not sound like much of an annual decline, it is "the largest decline on record" in CoreLogic's data going back over a decade.
Melbourne lags a few months behind Sydney but is now catching up. Home prices in Melbourne fell 0.5% in July year-over-year, according to CoreLogic, and are down 3.0% from their peak at the end of November 2017: House prices fell 1.4% from a year ago while condos are still up 2.3%. The index is now back where it had been at the end of June, 2017: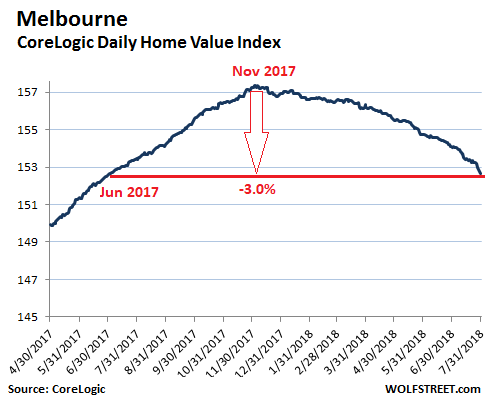 To continue reading: A Housing Bubble Pops: Update on Australia