Imagine where delinquencies would be if we weren't in "the best economy ever." From Wolf Richter at wolfstreet.com:
But these are the good times. Automakers are not amused.
The auto industry depends on subprime-rated customers that make up over 21% of total auto-loan originations. Without these customers, the wheels would come off the industry. And tightening up lending standards to reduce risks would cause serious damage to the undercarriage. Subprime lending is very profitable – until the loans blow up – because interest rates can be high. But those subprime auto loans are blowing up at rates not seen since the worst days of the Financial Crisis – and these are the good times!
Serious auto-loan delinquencies – 90 days or more past due – in the second quarter, 2019, jumped 47 basis points year-over-year to 4.64% of all outstanding auto loans and leases, according to New York Fed data released today. This is about the same delinquency rate as in Q3 2009, just months after GM and Chrysler had filed for bankruptcy. The 47-basis-point jump in the delinquency rate was the largest year-over-year jump since Q1 2010: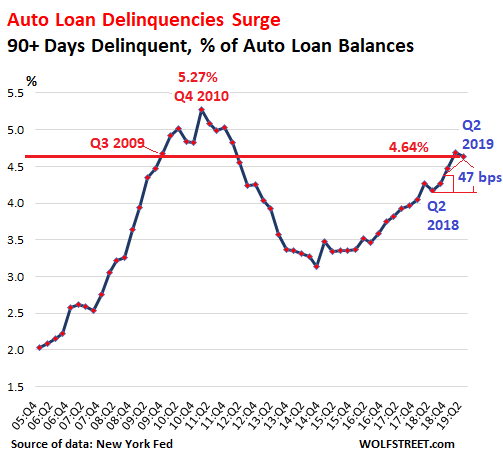 But this time there is no economic crisis. The unemployment rate and unemployment claims are hovering near multi-decade lows, and employers are griping about how hard it is to hire qualified workers without having to raise wages. So, unlike during the Financial Crisis, this surge in the delinquency rate has not been caused by millions of people having lost their jobs. It's not the economy that did it. It's the industry.