Imagine how bad it's going to get when the bad times arrive. From Wolfe Richter at wolfstreet.com:
Nearly a quarter of all subprime auto loans are 90+ days delinquent. Why?
Auto loan and lease balances have surged to a new record of $1.33 trillion. Delinquencies of auto loans to borrowers with prime credit rates hover near historic lows. But subprime loans (borrowers with a credit score below 620) are exploding at a breath-taking rate, and they're driving up the overall delinquency rates to Financial Crisis levels. Yet, these are the good times, and there is no employment crisis where millions of people have lost their jobs.
All combined, prime and subprime auto-loan delinquencies that are 90 days or more past due – "serious" delinquencies – in the fourth quarter 2019, surged by 15.5% from a year ago to a breath-taking historic high of $66 billion, according to data from the New York Fed released today: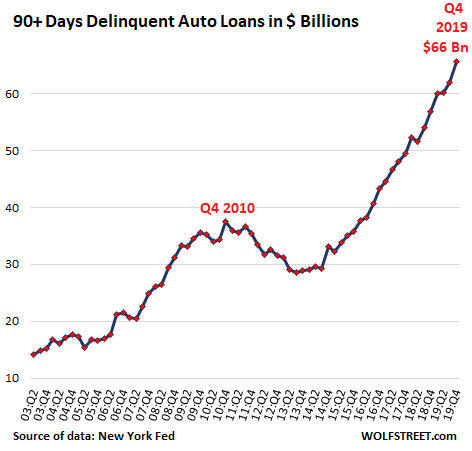 Loan delinquencies are a flow. Fresh delinquencies that hit lenders go into the 30-day basket, then a month later into the 60-day basket, and then into the 90-day basket, and as they move from one stage to the next, more delinquencies come in behind them. When the delinquency cannot be cured, lenders hire a company to repossess the vehicle. Finding the vehicle is generally a breeze with modern technology. The vehicle is then sold at auction, a fluid and routine process.