It wouldn't be at all surprising if some mainstream media potentates were involved with Jeffrey Epstein and his nefarious activities. From rt.com: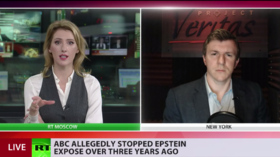 © RT
ABC and other mainstream media outlets refused to cover accusations against sex predator Jeffrey Epstein because "a network of people" that includes their executives were implicated, James O'Keefe of Project Veritas told RT.
The Disney-owned network has doubled down on its insistence that anchor Amy Robach's story on Epstein three years ago lacked "enough corroboration" and thus wasn't aired. This was after Project Veritas released a "hot mic" video of Robach slamming the decision to quash the story.
The conservative filmmaker told RT on Tuesday that he believes ABC's refusal to budge from that explanation backs up Robach's claim that "a network of people" – including the executives running her channel – are "covering up for this" because they are somehow "implicated."