We know the answer is going to be extend and pretend, for as long as humanly possible. From Nick Corbishley at wolfstreet.com:
Unemployment in the EU has barely budged since the virus crisis began. In the first four months of the crisis, the official unemployment rate edged up from 6.5% in March, when many lockdowns began, to 7.1% in June, the last month on record. There's one reason: Furloughed workers are not included in the unemployment stats (all charts via Trading Economics):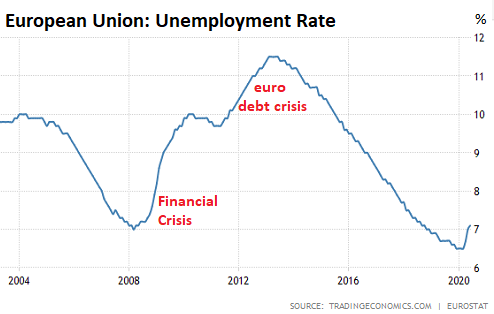 Most EU countries have adopted hugely ambitious job retention programs that have saved, at least temporarily, tens of millions of jobs. Each government pays companies, who in turn pay employees between 60% and 84% of their monthly wage. In some cases, the workers work fewer hours for less pay; in others, they don't work at all. The workers take a hit to their income but their jobs remain intact, at least for the duration of the program, giving their employers time and financial breathing space to reinvent themselves for the new economic reality that is quickly taking shape.
In Germany, the UK, France, Italy, and Spain, a combined 45 million workers were registered in furlough programs at the end of May — compared to about 32 million Americans who are claiming unemployment benefits under state and federal programs. The initial duration of the programs differed significantly by country, from nine weeks in Italy to a year in Germany. But governments have begun to extend the duration of the programs.