Monetary debasement usually goes along with moral and intellectual debasement. From MN Gordon at economicprism.com:
This week, while perusing the Federal Reserve's balance sheet figures, we came across a rather curious note.  We don't know how long the Fed's had this note posted to its website.  But we can't recall ever seeing it.  The note reads as follows:
"The Federal Reserve's balance sheet has expanded and contracted over time.  During the 2007-08 financial crisis and subsequent recession, total assets increased significantly from $870 billion in August 2007 to $4.5 trillion in early 2015.  Then, reflecting the FOMC's balance sheet normalization program that took place between October 2017 and August 2019, total assets declined to under $3.8 trillion.  Beginning in September 2019, total assets started to increase."
Directly below this note is the following chart: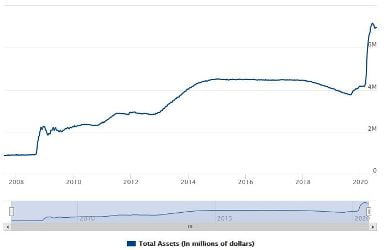 Does this look like a balance sheet that expands and contracts over time?
Quite frankly, the Fed's balance sheet chart, and the extreme dollar debasement that it illustrates, is a disgrace.  The fact that the Fed had to add this flagrantly false note as preface to its disgraceful chart is an insult.
This is a direct offense to anyone that's built a modest savings account by exchanging their time for dollars.  The time and effort put to obtaining these dollars is being stolen by the insidious process of central bank engineered money supply inflation.  Year in and year out, these earned dollars will be worth less and less.