Apparently the four policemen involved in the death of George Floyd went by the book. From George Parry at spectator.org:
The four policemen charged in George Floyd's death acted entirely according to the training and guidance provided them by the Minneapolis Police Department.
It is said that, in every large organization, the fecal matter flows downhill. Anyone who has ever worked in government can attest to the truth of that statement. But, for dramatic proof of that proposition, take a look at this picture.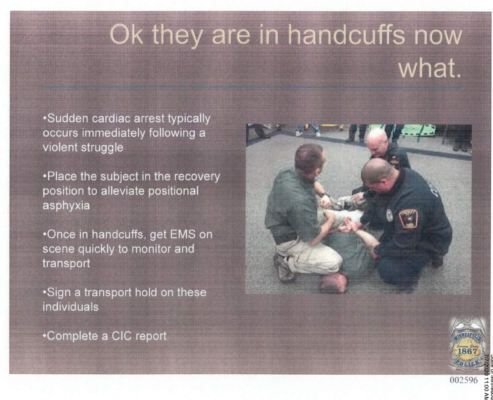 This is an illustration from the Minneapolis Police Department's official training materials on how to safely and properly subdue a suspect suffering from "excited delirium," a potentially lethal medical condition which, due to the rising use and abuse of illicit drugs, has grown to epidemic proportions on the streets of America.
Look closely. The depicted suspect is flat on the ground with his head turned to the side in what the illustration calls "the recovery position to alleviate positional asphyxia." The officer on the left is kneeling on the side of the suspect's neck.
Look familiar?
Could this and related parts of the officially approved and mandated Minneapolis Police Department (MPD) training curriculum be why former Minneapolis Police Officer Derek Chauvin saw fit to kneel on the side of George Floyd's neck? And could it be the reason why former officers Thomas Lane, J. Alexander Kueng, and Tou Thao assisted Chauvin as he knelt on the side of Floyd's neck?
As will be explained in detail below, throughout Floyd's confrontation with the police, he was at imminent risk of death from sudden cardiac arrhythmia caused by excited delirium. So it was that these officers followed the MPD's official procedures for how to properly and safely subdue someone in that life-threatening condition. In doing so, they were not only keeping Floyd in the prescribed "recovery position" to alleviate his risk of asphyxiation, they were also keeping an agitated and delirious Floyd from harming himself as they awaited the arrival of the ambulance that they had twice summoned to provide medical aid to him.