The flip side of coronavirus overreaction: an economy headed down the drain. From Adam Taggart at peakprosperity.com:
Laid off or fear you could be? Then read this.
Because despite the "Everything is Awesome!" mirage the financial markets are desperate to project, the real economy — you know, where people actually live their lives — is telling us a far darker story.
Tens of millions of US workers have lost their jobs since covid-19 arrived on America's shores. Over 28 million people right now are currently filing to receive state & federal unemployment benefits: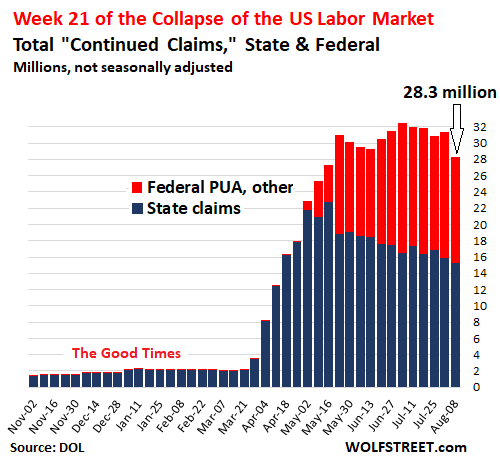 And despite extraordinary measures to aid these impacted households, many are slipping into hardship as the prospects only grow dimmer.
The $2.2 trillion CARES Act created the Federal Pandemic Unemployment Compensation program which added an additional $600 per week to those receiving unemployment benefits. It also sent a tax credit check of up to $1,200 ($2,400 for joint filers) to households making under a certain income threshold.
But the extra $600 payments have now expired, and Congress is deadlocked on what will follow. The current proposal is to re-start the extra benefit payment at the reduced sum of $400/week, with $300 paid out of the federal government's Disaster Relief Fund and the rest funded by the individual states. Another $1,200 payment seems likely, as well.
This plan has it challenges, though. At $300/week, the Disaster Relief Fund will be drained after 5 weeks. And many states are claiming they can't afford to foot the $100/week bill they're being asked to.
So it's little wonder, with tens of millions of jobs lost and over 3,500 businesses declaring Chapter 11 bankruptcy so far this year, Americans are increasingly worried for the future:
POLL-Three of ten Americans laid off in coronavirus crisis worried about food, shelter (Reuters)

Three of 10 Americans who lost work during the coronavirus pandemic said they may have trouble paying for food or housing after a $600-per-week enhanced unemployment payment expired last month, according to a Reuters/Ipsos poll released on Wednesday(…)

(…) Three out of 10 people surveyed by Reuters/Ipsos reported that they will have "a very difficult time meeting basic needs," which includes paying for rent or buying groceries. Half said they are under some stress "but we will be able to meet our basic needs."
And it's only going to get harder for these folks from here.