The airlines are in a world of trouble. From Wolf Richter at wolfstreet.com:
"Unfortunately, we see few catalysts over the next six months to meaningfully change this trajectory": Delta.
October 1 and the days that follow are going to be rough in terms of tens of thousands of well-paid service jobs – that's what airlines are threatening unless they get another $25-billion bailout. Airlines have been trying to shed employees by offering packages that induce employees to depart voluntarily because the $25-billion bailout package under the CARES Act banned "involuntary" furloughs or layoffs through the end of September.
The air passenger business is still down roughly 70% in the US, six months after the initial collapse of traffic began, according to TSA airport screenings of air travelers entering into security zones. And demand has hardly improved any since early July, and airlines continue to slash costs and cash-burn to survive: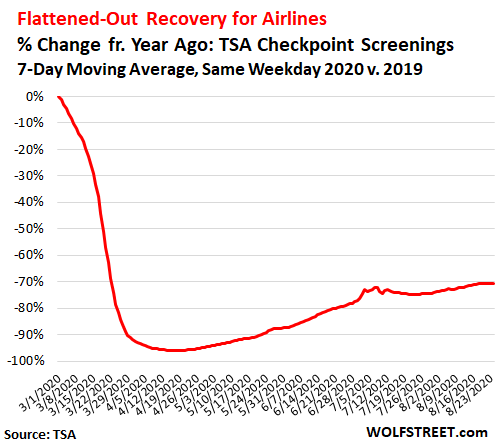 "It was assumed that by Sept. 30, the virus would be under control and demand for air travel would have returned. That is obviously not the case," American Airlines CEO Parker and President Robert Isom told employees in a grim message on Tuesday.
Under its buyout, early retirement, and long-term leave-of-absence programs, 23,500 employees had already voluntarily departed. But that wasn't enough. So the executives told employees what the next step would be: 19,000 "involuntary" furloughs on October 1.
American, which started the year out with about 140,000 employees, expects to have fewer than 100,000 employees in October.
"The one possibility of avoiding these involuntary reductions on Oct. 1 is a clean extension" of the bailout package, they said. So if given another bailout, American, which received $5.8 billion under the first bailout package, will then not lay off those employees on October 1 – but instead on the date when the second bailout package would expire?