Tulsi Gabbard stands out from the Democratic pack of jackals, and they hate her for it. From RT at rt.com: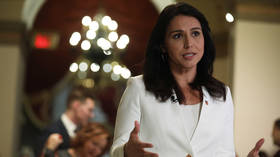 Former Democratic presidential candidate Tulsi Gabbard, branded a "Russian asset" by Hillary Clinton for her anti-war views, is again refusing to blindly follow her party's talking points – this time over fears of election fraud.
"Whether in the midst of a pandemic, as we are now, where mail-in voting is likely to drastically increase, or even in a normal election, no one should get in between a voter and the ballot box," the Hawaii congresswoman said Friday on Twitter.
Gabbard joined Thursday with Illinois Republican Congressman Rodney Davis to introduce a bill that would block federal funding to states that allow ballot harvesting – letting paid activists canvass neighborhoods to gather mail-ballots and turn them in on behalf of voters. There have been documented abuses with ballot harvesting, including a North Carolina case that led to an election being nullified and redone.
But Gabbard is running afoul of the Democratic Party's position on election fraud. The Democrat-controlled House has blocked all efforts to ban ballot harvesting, while party leaders and their mainstream media allies have argued repeatedly that major voter fraud is a myth and that President Donald Trump's attacks on the susceptibility of mail-in voting to foul play are unfounded.
Gabbard directly contradicted that message in her tweet, saying ballot harvesting is "ripe for fraud and poses a serious threat to the integrity of our elections." She added that abuse "is something we've actually seen happen in recent elections."
The stakes are high since a huge increase in absentee and mail-in voting is expected to occur this year due to the Covid-19 pandemic.