This is hilarious. From Tyler Durden at zerohedge.com:
The world just turned upside-down for a few glorious minutes when CNN's Wolf Blitzer removed his anti-Trump activist mask and dared to ask House Speaker Nancy Pelosi some uncomfortable questions.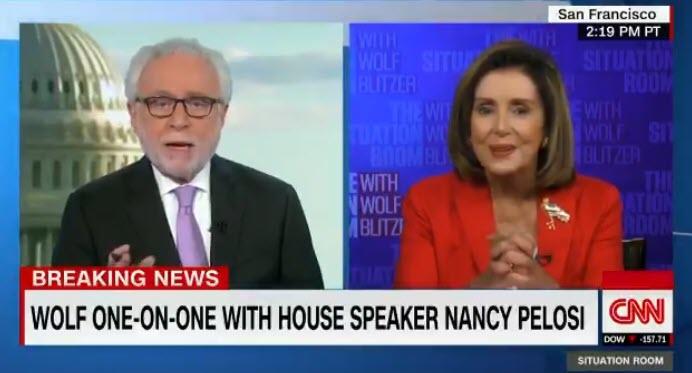 The conversation about why the Democrats refused to accept the $1.8 trillion COVID Relief bill offered by The White House quickly turned ugly when Blitzer brought up the following tweet from one of her own – Democratic Congressman Ro Khanna…
Pelosi grinned awkwardly, then unleashed on the bearded reporter:
"I don't know why you're always an apologist and many of your colleagues are apologists for the Republican position… Ro Khanna, that's nice. That isn't what we're going to do," wagging her fingers in a matronly way.
She went on briefly reverting to talking points about supporting "our heroes" by funding state and local governments, but in an uncharacteristic move, Blitzer refused to back off, "…there are million of Americans out there who can't pay the rent, feed their kids and $1.8 trillion [is a lot]" adding that he's also spoken with former Democratic presidential candidate Andrew Yang, who said to take the deal, "it's not everything you want, but there's a lot there."