Do we want a world where tech oligarchs get to decide what we see and don't see? From Niall Ferguson at The Spectator at zerohedge.com:
'To see what is in front of one's nose needs a constant struggle,' George Orwell famously observed. He was talking not about everyday life but about politics, where it is 'quite easy for the part to be greater than the whole or for two objects to be in the same place simultaneously'.
The examples he gave in his 1946 essay included the paradox that 'for years before the war, nearly all enlightened people were in favour of standing up to Germany: the majority of them were also against having enough armaments to make such a stand effective'.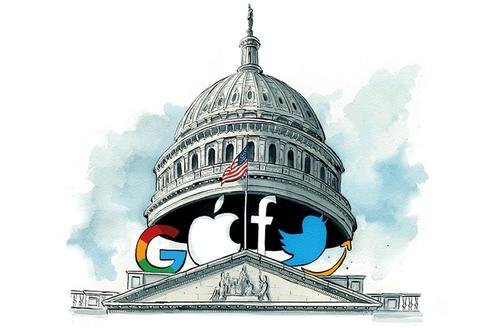 Last week provided a near-perfect analogy. For years before the 2020 election, nearly all American conservatives were in favour of standing up to big tech: the majority of them were also against changing the laws and regulations enough to make such a stand effective. The difference is that, unlike the German threat, which was geographically remote, the threat from Silicon Valley was literally in front of our noses, day and night: on our mobile phones, our tablets and our laptops.
Writing in this magazine more than three years ago, I warned of a coming collision between Donald Trump and Silicon Valley. 'Social media helped Donald Trump take the White House,' I wrote. 'Silicon Valley won't let it happen again.' The conclusion of my book The Square and the Tower was that the new online network platforms represented a new kind of power that posed a fundamental challenge to the traditional hierarchical power of the state.