Somehow Russia moving troops within its own country poses an existential threat to the West and risks World War III. From Daniel Kovalik at rt.com: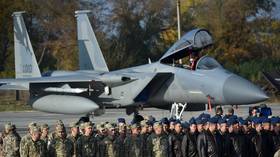 As tensions increase between Moscow and NATO over a buildup of troops near the Donbass, actually initiated by Ukraine, the West's apparent position is that Russia has no right to self-defense. That's been the case for decades.
Having grown up in middle America during the waning years of the Cold War, I possessed a not-so-healthy fear of an imminent Soviet invasion or attack. Bob Dylan would capture this type of fear and hysteria in his 1964 song 'With God on Our Side', which he ripped off from the Clancy Brothers and Dominic Behan.
Dylan's updated version of 'The Patriot Game' declared: "I've learned to hate the Russians, all through my whole life; if another war comes, it's them we must fight. To hate them and fear them, to run and to hide…" It is quite incredible to me that, nearly 60 years later, with the USSR itself having fallen in the meantime, these words still ring true in the West today.