The US alliance's effort to hastily construct something to rival China and Russia's well-thought out and well-executed Belt and Road Initiative is nothing more than a pathetic, me too farce and will pull no one from the Eurasian axis. From Pepe Escobar at The Asia Times via zerohedge.com:
Global South will be unimpressed by new B3W infrastructure scheme funded by private Western interests out for short-term profit…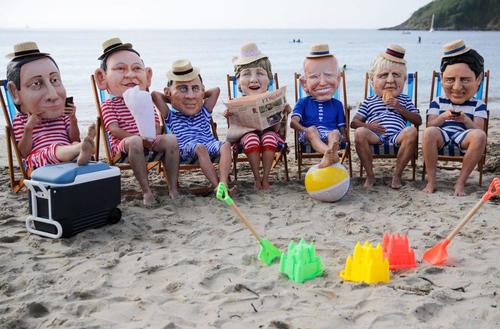 It requires major suspension of disbelief to consider the G7, the self-described democracy's most exclusive club, as relevant to the Raging Twenties. Real life dictates that even accounting for the inbuilt structural inequality of the current world system the G7's economic output barely registers as 30% of the global total.
Cornwall was at best an embarrassing spectacle – complete with a mediocrity troupe impersonating "leaders" posing for masked elbow bump photo ops while on a private party with the 95-year-old Queen of England, everyone was maskless and merrily mingling about in an apotheosis of "shared values" and "human rights".
Quarantine on arrival, masks enforced 24/7 and social distancing of course is only for the plebs.
The G7 final communique is the proverbial ocean littered with platitudes and promises. But it does contain a few nuggets. Starting with 'Build Back Better' – or B3 – showing up in the title.
B3 is now official code for both The Great Reset and the New Green Deal.
Then there's the Yellow Peril remixed, with the "our values" shock troops "calling on China to respect human rights and fundamental freedoms" with a special emphasis on Xinjiang and Hong Kong.
The story behind it was confirmed to me by a EU diplomatic source, a realist (yes, there are some in Brussels).
All hell broke loose inside the – exclusive – G7 room when the Anglo-American axis, backed by spineless Canada, tried to ramrod the EU-3 plus Japan into an explicit condemnation of China in the final communiqué over the absolute bogus concentration camp "evidence" in Xinjiang. In contrast to politicized accusations of "crimes against humanity", the best analysis of what's really going on in Xinjiang has been published by the Qiao collective.