The world, particularly the Eurasian land mass, is being reordered and there's not much the US government can do about it. From Pepe Escobar at The Asia Times via zerohedge.com:
Authored by Pepe Escobar via The Asia Times,
Read Part 1: How The SCO Just Flipped The World Order here…
Shanghai Cooperation Organization's 20th-anniversary summit heralded the beginning of a new geopolitical and geo-economic order…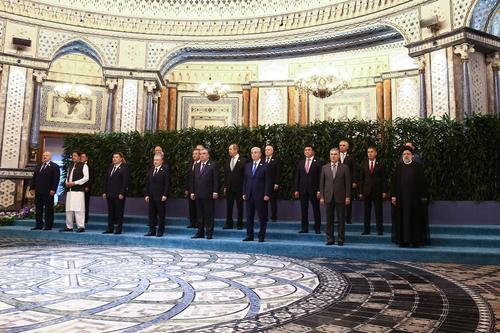 The 20th anniversary summit of the Shanghai Cooperation Organization (SCO) in Dushanbe, Tajikistan, enshrined no less than a new geopolitical paradigm.
Iran, now a full SCO member, was restored to its traditionally prominent Eurasian role, following the recent $400 billion-worth trade and development deal struck with China. Afghanistan was the main topic – with all players agreeing on the path ahead, as detailed in the Dushanbe Declaration. And all Eurasian integration paths are now converging, in unison, towards the new geopolitical – and geoeconomic – paradigm.
Call it a multipolar development dynamic in synergy with the Belt and Road Initiative (BRI).
The Dushanbe Declaration was quite explicit on what Eurasian players are aiming at: "a more representative, democratic, just and multipolar world order based on universally recognized principles of international law, cultural and civilizational diversity, mutually beneficial and equal cooperation of states under the central coordinating role of the UN."
For all the immense challenges inherent to the Afghan jigsaw puzzle, hopeful signs emerged this Tuesday, when Hamid Karzai and Abdullah Abdullah met in Kabul with the Russian presidential envoy Zamir Kabulov, China's special envoy Yue Xiaoyong, and Pakistan's special envoy Mohammad Sadiq Khan.
This troika – Russia, China, Pakistan – is at the diplomatic forefront. The SCO reached a consensus that Islamabad will be coordinating with the Taliban the formation of a government also including Tajiks, Uzbeks and Hazaras.