Homelessness is pervasive in Los Angeles and local government has demonstrated no ability to deal with it. From Jamie Joseph at The Epoch Times via zerohedge.com:
In an unusual move, Los Angeles Sheriff Alex Villanueva has sent a letter to the Board of Supervisors urging them to declare a local state of emergency to address the spiraling homelessness crisis in the county, citing an increase in crime, lack of sanitation, and struggling businesses.
"We've been inundated with calls, with concerns, with images from the news, from people picking up the phone, emailing, sending us letters, about what's going on in Venice," Villanueva told reporters during a press conference inside the Justice Hall on June 23. "And that is a microcosm of what's going on throughout the entire county of Los Angeles."

"Enough is enough, we need to kick this into high gear," he said.
There's an estimated 200 homeless people on the Venice Beach Boardwalk and 2,000 throughout the neighborhood, making it the second largest concentration of homeless people after Skid Row in downtown Los Angeles. The area has been getting primary attention recently from Villanueva and the sheriffs' Homeless Outreach and Services Team (HOST).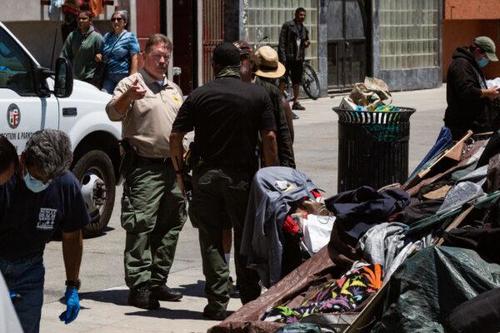 Los Angeles Sheriff's Department deputies speak with Venice Beach, Calif., homeless individuals on June 8, 2021. (John Fredricks/The Epoch Times)