The US quasi-withdrawal in Afghanistan will certainly complicate the Eurasian political situation. From Pepe Escobar at zerohedge.com:
Russia-China-Iran alliance is taking Afghanistan's bull by the horns…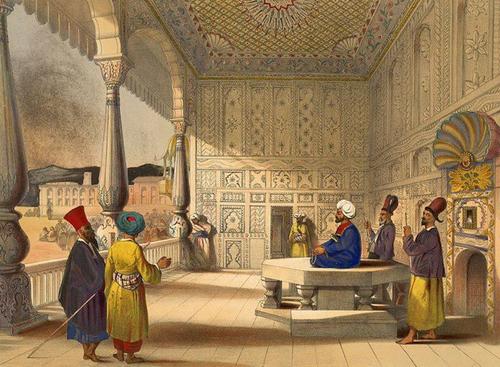 The Great Game: This lithograph by British Lieutenant James Rattray shows Shah Shuja in 1839 after his enthronement as Emir of Afghanistan in the Bala Hissar (fort) of Kabul. Rattray wrote: 'A year later the sanctity of the scene was bloodily violated: Shah Shuja was murdered.' Photo: Wikipedia
Chinese Foreign Minister Wang Yi is on a Central Asian loop all through the week. He's visiting Turkmenistan, Tajikistan, and Uzbekistan. The last two are full members of the Shanghai Cooperation Organization, founded 20 years ago.
The SCO heavyweights are of course China and Russia. They are joined by four Central Asian "stans" (all but Turkmenistan), India and Pakistan. Crucially, Afghanistan and Iran are observers, alongside Belarus and Mongolia.
And that leads us to what's happening this Wednesday in Dushanbe, the Tajik capital. The SCO will hold a 3 in 1: meetings of the Council of Foreign Ministers, the SCO-Afghanistan Contact Group, and a conference titled "Central and South Asia: Regional Connectivity, Challenges and Opportunities."
At the same table, then, we will have Wang Yi, his very close strategic partner Sergey Lavrov and, most importantly, Afghan Foreign Minister Mohammad Haneef Atmar. They'll be debating trials and tribulations after the hegemon's withdrawal and the miserable collapse of the myth of NATO "stabilizing" Afghanistan.
Let's game a possible scenario: Wang Yi and Lavrov tell Atmar, in no uncertain terms, that there's got to be a national reconciliation deal with the Taliban, brokered by Russia-China, with no American interference, including the end of the opium-heroin ratline.