Labor is seeing the price of everything except the price of their labor going up and they're getting restless. From Tyler Durden at zerohedge.com:
Some labor experts have opined that the failure of a group of workers at an Amazon warehouse in Bessemer, Ala. to succeed in their battle to form a union should blunt the nascent revival in the American labor movement. But as the number of American workers who decided to quit their jobs during the prior month soared to a record high north of 4MM, the number of open jobs in the US remains north of 10MM. For the first time in decades, workers have the power in the labor market. And they're using this newfound leverage to launch a flurry of strikes, creating another headache for their preoccupied bosses.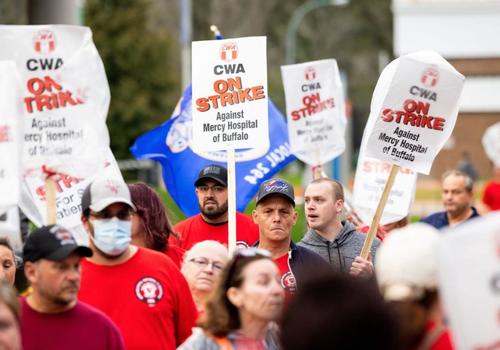 According to Reuters, thousands of workers are on strike across the US. Data maintained by Cornell show 176 strikes have been called this year, with 17 in October alone.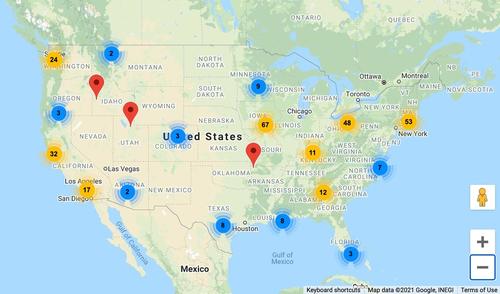 They're demanding high pay and better conditions, among other things, and some of them are already winning or at least reaching a settlement. Just this weekend, Hollywood make-up artists and camera operators reached a deal  to avoid a walkout.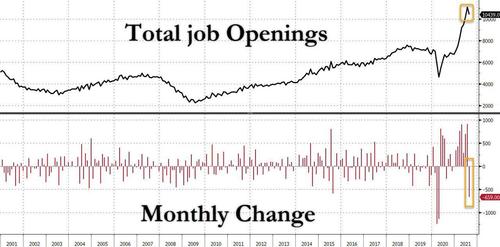 This victory in Hollywood, combined with the latest JOLTS numbers, are bound to be encouraging.
Kevin Bradshaw, an employee at Kellogg's cereal plant in Memphis, Tennessee, where most of North America's Frosted Flakes are made, told Reuters he opposes cuts to healthcare coverage, retirement benefits and vacation time that union officials say the company is pushing for from about 1,400 workers. They have been on strike since Oct. 5 at plants in Michigan, Nebraska, Pennsylvania and Tennessee.
"Enough is enough," said Bradshaw, vice president of Bakery, Confectionary, Tobacco Workers and Grain Millers International Union Local 252G at the Memphis plant. "We can't afford to keep giving away things to a company that financially has made record-breaking returns."