The verdict is in and it was the common sense acquittal on all counts. The case should never have gone to trial. Now of course we get the tantrum. From Tyler Durden at zerohedge.com:
Update (1558ET): Reports suggest multiple protests are planned across the U.S. after the jury decided to acquit Kyle Rittenhouse of all charges.
Twitter account "Raws Alerts" reports protests are being planned in Kenosha, Wisconsin, where the trial was held. National Guard troops are on standby for action if social unrest breaks out.
Comments outside the protest include one individual who said, "when it's a state-sanctioned murder, you get to riot."
Other protests are allegedly being planned for Chicago, New York City, Portland, Washington, D.C., Philadelphia, and Los Angeles.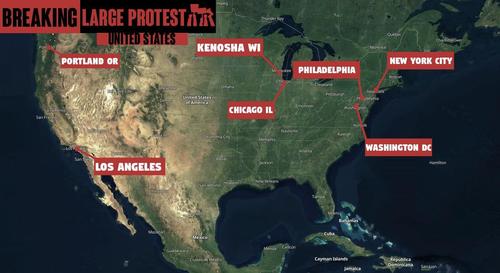 As of 1550 ET, there are no reports of protests or riots in any mentioned cities. This is something readers should keep a close eye on into the evening and overnight.
* * *
Update (1500ET): When asked for his opinion on the verdict, President Biden said he "stands by" the jury's decision to acquit Rittenhouse, adding "the jury system works and we have to abide by it."