We certainly want the Marines stocked with a lot of spineless jellyfish who accept the vaccines without protest and whose immune systems are under attack from multiple rounds. Especially if the administration gets its idiotic war against Russia, China, or both. From Tyler Durden at zerohedge.com:
Days ago it was first revealed that despite the Department of Defense offering a "religious exemption" as part of the Covid-19 vaccine mandate across all military branches, not a single one has yet to be approved – at a time at least 169 Marines were already discharged for their refusal to receive the shot.
A new investigative report by Fox News finds that multiple "thousands" of Marines are still set to be processed out over the mandate, and that the corps' "best and brightest" are being "crushed" by the Biden vaccine order. "Marines are allowed to apply for a religious exemption, but so far not a single application regarding the COVID-19 vaccine, or any vaccine for that matter, has been approved, a Marine Corps spokesman told Fox News."
For this reason the mandate is being likened to a "political purge" – which has seen a "blanket denial" of all formal requests for religious exemptions. In recent days official Marine Corps statements have underscored no exemptions are being given out, yet supposedly these are being considered on a case by case basis.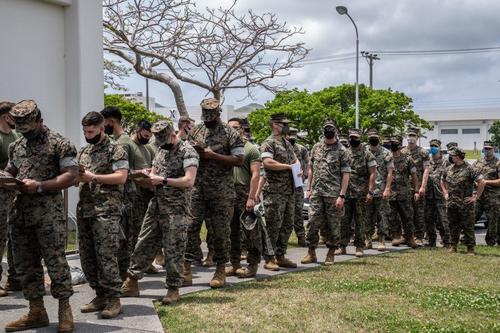 As of late last week, the Marine Corps confirmed that not a single religious exemption request has yet to be approved. It was further confirmed that at least a few thousand could be discharged based on the exemption denial:
Marine Corps spokesman Capt. Ryan Bruce told Fox News that as of Thursday, 3,080 of the 3,192 requests for religious accommodation concerning the COVID-19 vaccine mandate had been processed and zero had been approved, adding that "no religious accommodations have been approved for any other vaccine in the past seven years."