Horowitz concluded that the FBI's Russiagate investigation of Trump was properly initiated, but this new Durham filing offers further support to a conclusion many reached back then: Horowitz was in bed with the FBI. From Jeff Carlson at Hans Mahncke at The Epoch Times via zerohedge.com:
A new court filing by special counsel John Durham reveals that Department of Justice (DOJ) Inspector General Michael Horowitz concealed crucial information from Durham in connection with the ongoing prosecution of Michael Sussmann, a former attorney to Hillary Clinton's 2016 presidential campaign.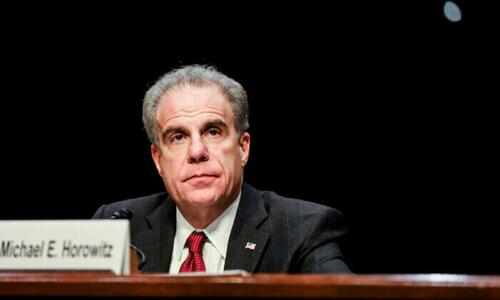 The filing also reveals that Horowitz failed to disclose that his office is in possession of two cellphones used by former FBI general counsel James Baker. The phones may contain information that's important to the Sussmann case, as well as to a separate criminal leak investigation of Baker that Durham personally conducted between 2017 and 2019.
Horowitz first came to public prominence in June 2018 when he issued a report on the FBI's actions leading up to the 2016 presidential election. Horowitz followed up in December 2019 with another report on the FBI's Crossfire Hurricane investigation and the bureau's pursuit of a Foreign Intelligence Surveillance Act (FISA) warrant on Trump campaign aide Carter Page.
Durham's filing on Jan. 25 involves discovery issues surrounding Sussmann's upcoming trial for allegedly making a materially false statement to the FBI's then-general counsel James Baker. As part of Durham's discovery obligations, the Special Counsel's Office met with Horowitz and his team on Oct. 7, 2021, and subsequently requested any materials, including any "documents, records, and information" regarding Sussmann that may have been in the possession of the Office of Inspector General (OIG).
On Dec. 17, 2021, Horowitz's office provided Durham with information that Sussmann had given the OIG information in early 2017, that an OIG "employee's computer was 'seen publicly' in 'Internet traffic' and was connecting to a Virtual Private Network in a foreign country." It isn't clear what this information was about, why Sussmann would know about this information, or why he would have been interested in the internet activities of OIG employees.