The margin calls mount, like the first cracks and crevices on an avalanche. From Tyler Durden at zerohedge.com:
While there have been occasional stories of hedge fund blow ups (especially those trading Chinese stocks) amid the recent market volatility, so far we have yet to hear of a bank or any other "systematically important" market participant running into a solvency or liquidity crisis or needing a bailout, and yet a look at one of the most tangible funding market indicators – the FRA/OIS – has traded at very elevated levels in recent weeks, suggesting that there is indeed some funding trouble below the surface.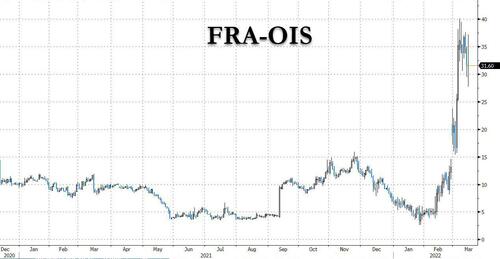 But if it is not the banks scrambling for liquidity, then who?
Recall what Zoltan Pozsar warned two weeks ago, when he said that "we could be looking at the early stages Of A Classic Liquidity Crisis" – according to the former NY Fed liquidity guru, none other than the commodity traders themselves, and their associated exchanges and clearinghouses, will be the drain of liquidity during this period of unprecedented commodity volatility, adding that "if you want to express all this in the credit space, look at what CDS spreads on some bigger commodity traders have done in the past few weeks."
Sure enough, last week's unprececented LME margin squeeze, where a 250% surge overnight in nickel prices nearly bankrupted Chinese tycoon Xiang Guangda whose Tsingshan Holding Group, the largest stainless steel maker, held a massive 150,000 tons nickel short and which resulted in $8 billion margin call which however even the collecting counterparties (one of which was JPMorgan) did not want to collect on knowing they would default Tsingshan, collect nothing and potentially push the LME itself into insolvency.