You can't "central plan" your way out of a devastating housing market slump. From Daniel Lacalle at zerohedge.com:
A few months ago, I wrote that the Chinese slowdown was much more than COVID-19 related and pointed to the challenges coming from the excessive weight of the real estate sector in the economy.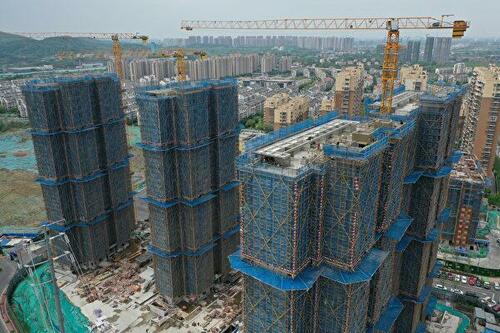 A research paper by Kenneth Rogoff and Yuanchen Yang (pdf) estimated that the real estate sector constitutes 29 percent of China's GDP.
The problems coming from the slow-motion deterioration of the property sector have extended to the financial challenges of China's local governments and may create a relevant fiscal problem for the nation's public accounts.
"Sales at China's largest housing developers fell 43 percent in June from a year earlier, according to China Real Estate Information Corp," Bloomberg reported, creating an alarming funding gap for local governments, where finances are heavily dependent on land sale revenues, and a significant problem for the financial sector and the government. China's central bank has promised to mobilize a $148 billion bailout to complete unfinished real estate projects as anger rises among property buyers that haven't received their homes after advancing significant payments.
The size of the real estate sector in the economy is enormous, and the impact on gross domestic product (GDP) of a slump in sales may be impossible to offset with other sectors. According to S&P Global, China's property sales will probably drop by about 30 percent this year due to the increasing number of homebuyers' mortgage payment suspensions. This could be worse than in 2008 when sales fell by roughly 20 percent, Esther Liu at S&P Global Ratings told CNBC. There's no sector in China that can mitigate the impact of such a drop in tax revenues and output.