Tulsi Gabbard has made an impressive number of enemies in her controversial career. She calls 'em as she sees 'em, which annoys a lot of people, especially Washington types. From RT at rt.com:
The US president is exploiting the conflict in Ukraine to expand NATO and enrich defense contractors, Tulsi Gabbard said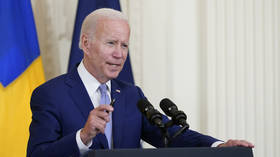 US President Joe Biden is using the conflict in Ukraine to engineer "regime change in Russia" and feed the military-industrial complex, former US representative and 2020 presidential candidate Tulsi Gabbard told Fox News viewers on Friday. Meanwhile, America's European allies are paying the price as Biden builds his "New World Order."
Filling in for Fox host Tucker Carlson on Friday, the former Congresswoman from Hawaii issued a scathing condemnation of the Biden administration's anti-Russia sanctions, which she said have only hurt the US and Europe while Russia rakes in record energy profits.
"Europe is in a massive energy crisis right now," she stated, citing record power prices in France, public lighting cutbacks and impending heating shortages in Germany, and restrictions on home and business energy usage in the UK and Spain