Hope springs eternal that someday somebody will conduct an honest investigation that actually leads to someone's incarceration. From Tyler Durden at zerohedge.com:
Republican members of the House Judiciary Committee released a massive report on Friday detailing whistleblower disclosures about the politicization of the Justice Department (DOJ) and FBI under Attorney General Merrick Garland and FBI Director Christopher Wray.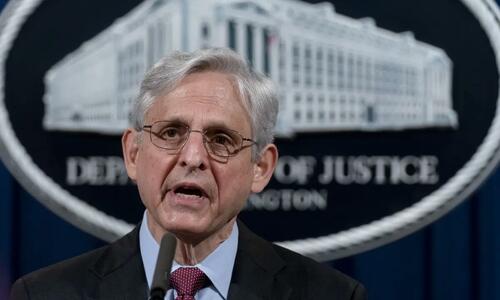 According to the report, Garland has been a "willing participant of the Biden Admin's weaponization of law enforcement," while the FBI has "abused its law-enforcement authorities for apparently political purposes."
What followed was a laundry list of incidents and whistleblower reports illustrating how politicized federal law enforcement has become.
What's more, the report shows that the FBI has been inflating domestic extremism figures to fit an agenda.
One of the most significant findings of the report showed that the FBI has been encouraging its agents to artificially inflate the number of domestic violent extremism (DVE) incidents.

For years, Democrats—including President Joe Biden—have claimed that DVE events comprise one of the largest threats to American national security. Specifically, Democrats have blamed conservatives and "white supremacists" for most such incidents.

During the 116th Congress, Democrats even went so far as to propose a bill that would substantially bolster DOJ resources to combat DVE. –Epoch Times
"White supremacists and other far-right-wing extremists are the most significant domestic terrorism threat facing the United States," reads the bill.
According to the whistleblowers, however, "FBI leadership is pressuring line agents to reclassify cases as domestic violent extremism even if the matter does not meet the criteria."