It's hard to say what emotion this article most strongly provokes, dismay or revulsion. From John Fredericks at The Epoch Times via zerohedge.com:
"I don't even know if I will be alive tomorrow. I might OD tonight," Pete—a pseudonym—told The Epoch Times.

"You are talking to a drug user right now and that's the name of the game."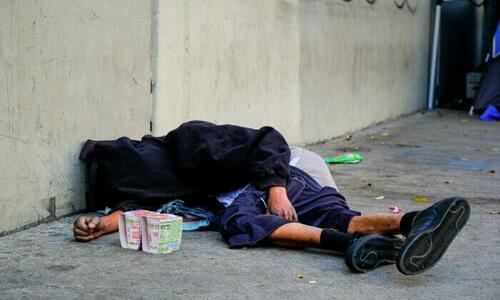 The 34-year-old comedian has been using the opiate fentanyl since the emergence of the coronavirus pandemic and commonly checks in and out of rehabilitation centers. With his addiction, he wakes up some mornings homeless on the streets of Southern California.
"You are talking on the phone to a guy about to get his drugs right now," he said slurring his words off of Huntington Beach's 17th Street. "And you just missed me getting shaken down by some guy over here."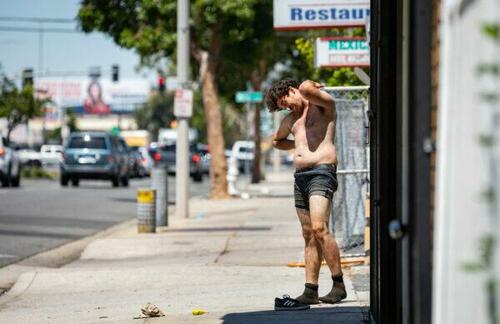 A homeless man contorts his body while working off a drug high in Santa Ana, Calif., on June 28, 2022. (John Fredricks/The Epoch Times)
The "guy" Pete was referencing, a drug dealer, did not give Pete the drugs he wanted. Instead, he paid a nearby homeless individual $80 to help him track down a dealer.
"I would say that the easiest cities to get [fentanyl] in Orange County would be either Costa Mesa or Santa Ana," Pete said the morning after being arrested for public drunkenness by Newport Beach Police.

"You can ask any homeless person and they can tell you where to find fentanyl to inject or smoke," he said.