Even if you find a charger, its going to take a minimum of 30 to 40 minutes to charge. Hope you're not in a hurry. From Tyler Durden at zerohedge.com:
Owners of electric vehicles are finally admitting that recharging away from home is a total "logistical nightmare," between finding charging stations, and the fact that in the best case scenarios it takes 30 to 40 minutes, and up to two hours, to recharge.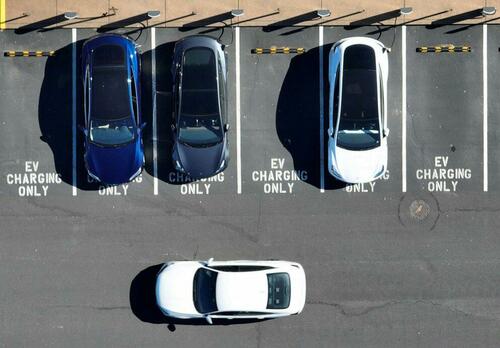 "We're going through the planning process of how easily Maddie can get from Albany to Gettysburg [College] and where she can charge the car," said YouTube personality Steve Hammes, who leased a Hyunday Kona Electric SUV for his 17-year-old daughter, Maddie.
"It makes me a little nervous. We want fast chargers that take 30 to 40 minutes — it would not make sense to sit at a Level 2 charger for hours. There isn't a good software tool that helps EV owners plan their trips," he told ABC News.
The report comes on the heels of the Biden administration's announcement that Tesla would open its Supercharger network to non-Tesla owners by the end of next year – a plan which includes 3,500 Tesla fast chargers and 4,000 of the slower, Level 2 chargers.
John Voelcker, an industry expert on EVs and the former editor of Green Car Reports, said this arrangement will allow Tesla to learn a lot about U.S. drivers — "how you charge, where you drive and what car you have." He does not expect Tesla to commit to additional charging stations.

"Tesla does not want its highly reliable and tightly integrated charging network to be clogged with people whose cars can't charge as fast as Teslas," he told ABC News. -ABC News
To try and cope with an increase in EVs, the Biden administration's 2021 infrastructure law has a goal of installing 500,000 new chargers across the country – as well as dramatically boosting EV sales, by 2030.