Imagine after a few years of exposure to this poison as it persists in the soil, water, and air. From Tyler Durden at zerohedge.com:
Residents of East Palestine, Ohio have been reporting bizarre symptoms following the Feb. 3 Norfolk Southern train derailment and subsequent toxic explosion, the NY Post reports.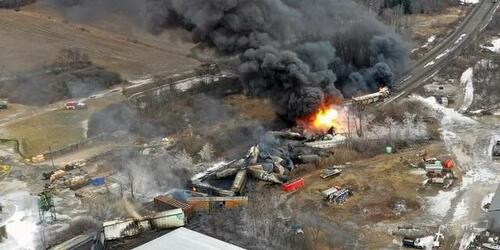 "Doctors say I definitely have the chemicals in me but there's no one in town who can run the toxicological tests to find out which ones they are," said 40-year-old Wade Lovett, whose high-pitched voice now sounds as if he's been inhaling helium.
"My voice sounds like Mickey Mouse. My normal voice is low. It's hard to breathe, especially at night. My chest hurts so much at night I feel like I'm drowning. I cough up phlegm a lot. I lost my job because the doctor won't release me to go to work."
Leading the charge to fight for the community is 46-year-old Jami Cozza, a lifelong East Palestinian who counts 47 close relatives here. Many of them are facing health issues from the chemical fire as well as the psychic toll of their town becoming, in the words of a scientist visiting the area Thursday, the new "Love Canal" — a reference to the Niagara Falls, NY, neighborhood that became a hotbed issue in 1978 because people were getting sick from living above a contaminated waste dump. -NY Post
Many residents are also complaining of mystery rashes and sore throats after returning home following the lifting of evacuation orders on February 8.
"Yesterday was the first day in probably three or four days that I could smell anything. I lost my smell and my sense of taste. I had an eye infection in both eyes. I was having respiratory issues like I was just out of breath. Other members of my family have had eye infections and strep throat," said Shelby Walker, who lives a few yards from the epicenter from the crash and explosion. "The cleanup crew drives past us at night and won't even look at us. It's like we don't exist. No one has reached out to us or told us anything."