The debt implosion is just getting started, but in the commercial mortgage-backed securities market it's picking up steam. From Wolf Richter at wolfstreet.com:
CMBS delinquency rates for retail properties spiked to 18% and for hotel properties to 24%.
he delinquency rate for Commercial Mortgage Backed Securities (CMBS) spiked by 317 basis points to 10.3% in June, after having spiked by 481 basis points in May, which had been the largest month-to-month spike in the data going back to 2009, according to Trepp, which tracks securitized mortgages for institutional clients.
Another 4.1% of the underlying loans missed the June payment deadline. Because they're not yet 30 days past-due – they're marked in "grace" period or "beyond grace" period – they're not yet included in the delinquent pile. A loan that is in the "grace" period or in the "beyond grace" period could revert to "current" in July without a payment being made, if the borrower enters into a forbearance agreement with the loan servicer. If the borrower fails to obtain a forbearance agreement, the loan will be added to the pile of 30-plus days delinquent loans: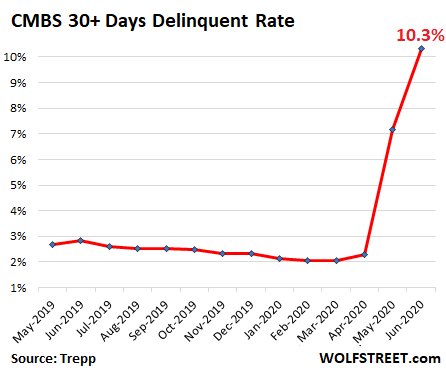 Trepp suggested that this still might get a little worse, but more slowly, and not much worse. "So perhaps we have reached terminal delinquency velocity," as the report put it, where "most of the borrowers that felt the need for debt service relief have requested it."