Rolling Stone published a one-source story from a guy who basically made it up out of whole cloth. Rolling Stone apparently did not check the story's veracity. Is it any wonder people turn to the alternative media? From Tyler Durden at zerohedge.com:
Update (1155ET): Rolling Stone has issued an 'update,' not a correction, or a retraction, by appending the hospital's statement to the top of the article.
That's the same reason the hard-core Dem Party media loyalists, led as usual by @Maddow, spread this fake story all over based on what appears to be a fraudulent source without checking. Fake News is 100% acceptable if done with good political motives:https://t.co/lzAXAHKrfN

— Glenn Greenwald (@ggreenwald) September 5, 2021
The fact that @Twitter can't bother to ban people who spread this lie shows what a joke their war on misinformation is. https://t.co/N5Ie4a4QfD

— Pradheep J. Shanker (@Neoavatara) September 5, 2021
Just to be clear, Rolling Stone called Rogan a "conspiracy theorist," in a story that turned out to be completely fabricated disinformation. https://t.co/l7sWuiRqhW

— Leighton Akira Woodhouse (@lwoodhouse) September 5, 2021
*  *  *
After Joe Rogan announced that he'd kicked Covid in just a few days using a cocktail of drugs, including Ivermectin – an anti-parasitic prescribed for humans for over 35 years, with over 4 billion doses administered (and most recently as a Covid-19 treatment), the left quickly started mocking Rogan for having taken a 'horse dewormer' due to its dual use in livestock.
Rolling Stone's Jon Blistein led the charge: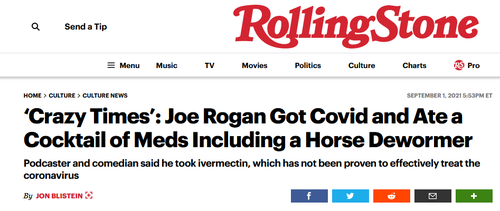 On Friday, Rolling Stone's Peter Wade took another stab – publishing a hit piece claiming that Oklahoma ERs were overflowing with people 'overdosing on horse dewormer.'
It was suspect from the beginning.
The report, sourced to local Oaklahoma outlet KFOR's Katelyn Ogle, cites Oklahoma ER doctor Dr. Jason McElyea – who claimed that people overdosing on ivermectin horse dewormer are causing emergency rooms to be "so backed up that gunshot victims were having hard times getting" access to health facilities.