China dominates the global steel trade. From Wolf Richter at wolfstreet.com:
Who totally dominates it?
Steel tariffs are now in place, and the world is grumbling and threatening retaliation against the US. Its closest partners, such as Canada, are trying to figure out how to navigate the waters. Part of Corporate America is lobbying against it and wagging its checkbook. The other part of Corporate America — the part that has been lobbying for it — is now grinning from ear-to-ear. And the media is steeped in this melee. But just who is producing all this steel, and who is dominating this trade?
In April, China's crude steel production rose 4.8% from a year ago to 76.7 million tonnes (Mt), the highest on record, according to the World Steel Association. This was nearly 11 times as large as the 6.9 Mt of crude steel that the US produced.
China's production was nine times as large as that of the second and third largest producers, Japan and India, each with 8.7 Mt. World production of crude steel in April was 148.3 Mt, of which China's share was 51.7%.
And with somewhat awkward timing, the World Steel Association, whose members represent approximately 85% of the world's steel production, just released its World Steel in Figures 2018, with data through 2017. So here we go, step by step.
Steel production has grown sharply over the years. Since 1996, there were only three years when production declined: In 1998, as a result of the Asian Financial Crisis, in 2009 as a result of the Global Financial Crisis, and in 2015, when China made a short-lived effort to get a grip on its rampant overproduction.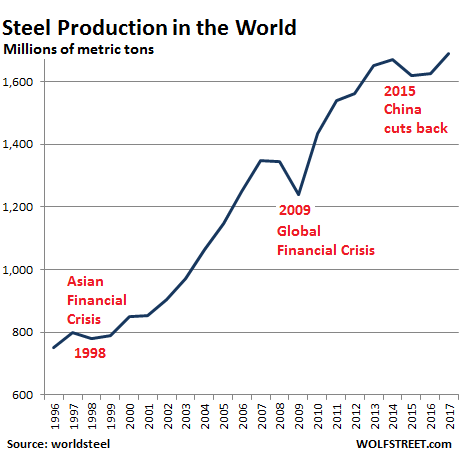 So how big of a role does China play in this?
The chart below shows steel production by some of the major regions: China (red line); Asia/Oceania without China (green line), which includes Japan, South Korea, and India; the EU (mauve line); North America, the NAFTA countries (black line), and the CIS (brown line) which includes Russia, Ukraine, and others. Note that production growth in China blew right through the Asian Financial Crisis and the Global Financial Crisis, but dipped in 2015: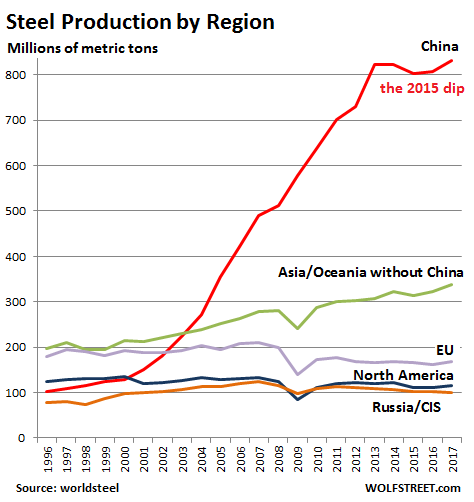 To continue reading: The Global Steel Trade that Trump Just Hit with Tariffs?