Canada's central bank has had a role in the "all-everything" bubble. From Peter Diekmeyer at Sprott Money via wolfstreet.com:
Three possibilities come to mind.
Bank of Canada governor Stephen Poloz cited numerous worries plaguing the economy during his speech to Toronto's financial elites at the prestigious Canadian Club. However, the title of Poloz's presentation, "Three things keeping me awake at night" seemed odd, given positive recent Canadian employment, GDP and other data.
Poloz highlighted high personal debts, housing prices, cryptocurrencies and other causes for concern, along with actions that the BoC is taking to alleviate them. His implicit message was (as always) "We have things under control." But if that's all true, then Canada's central bank governor should be sleeping like a baby. So, what is really keeping Mr. Poloz up at night? Three possibilities come to mind.
The Poloz Bubble
Firstly, far from just a housing bubble, Canada's economy shows signs of being in the midst of an "everything bubble." Bitcoin, for example, hovered near CDN $23,000 this week. Stock and bond valuations are not far behind in their relative loftiness. Worse for Poloz, who took office four years ago, his fingerprints are all over those bubble-like levels.
Canadian stock, bond and house prices were already at dizzying heights when Stephen Harper hired Poloz with the implicit expectation that he would juice up the economy, in preparation for what Canada's then-Prime Minister knew would be a tough upcoming election.
Poloz didn't disappoint, promptly delivering a nice Benjamin Strong-styled "coup de whiskey" to asset prices in the form of two interest rate cuts, which brought the BoC's policy rate down to just 0.50% during the ensuing months. Although Harper lost the election, loose BoC policy continues to provide the Canadian government with free money to borrow and spend as it wishes.
Here's Canada's ballooning Money Supply  M2 (via Trading Economics):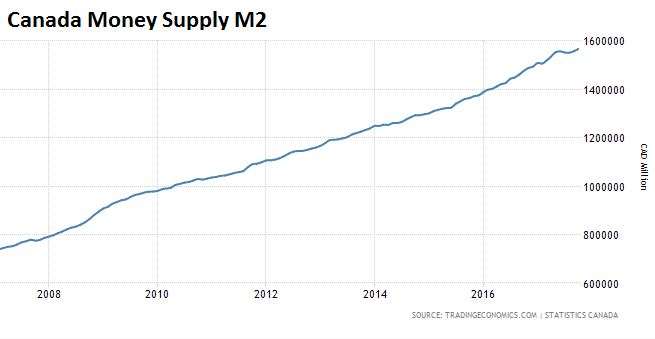 More broadly, the Poloz BoC's current policy, like that of the US Federal Reserve, is to boost asset prices even higher in the hope that the resulting wealth effect will trickle down to spur economic activity among ordinary Canadians.
To continue reading; Bank of Canada's Poloz Is Right to Be Worried