The Twitter story has been extensively covered so SLL has ignored it. However, this is a unique and first-rate analysis of Twitter, Big Tech, and the implications of Elon Musk's abandoned bid for the company. From Tyler Durden at zerohedge.com:
After months of drama, it would appear the fate of social media giant Twitter has been decided, and the result is an inevitable path to the internet graveyard.
Many people will question the notion that Twitter could ever actually bite the dust, but they are probably unfamiliar with the company's dismal performance as of late.  The reality is, Elon Musk's potential buyout was their last chance to stay afloat; now that Musk has exited the deal, they face a continued and steady decline into irrelevance like many other Big Tech companies before them.
While it's possible that Musk's decision is merely a play for a reduced sale price, it's probably safe to assume there is not going to be a purchase anytime soon.  This sets a chain of events in motion that bode very poor for Twitter given their track record the past couple of years, but first let's consider the current situation.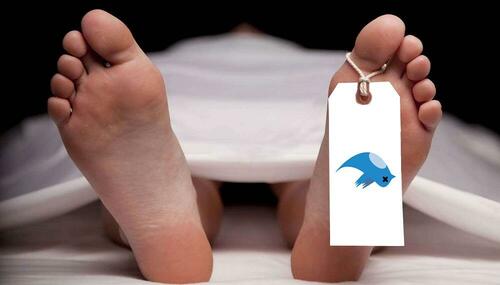 While the initial argument from Twitter execs will be that Musk "waived" his rights to change the original deal and thus he is required to buy regardless, his waiver does not extend to his rights to review Twitter's claims about their user base.  The deal itself was predicated on Twitter giving honest assessments of the percentage of users that are actually bots (fake accounts).  Twitter initially claimed that bots only made up around 5% of users; it would appear that Musk has discovered this to be false, and this is the position his lawyers have asserted through the SEC.