The yield on the 10-year treasury note has been trending irregularly upwards since July 2016. Today it set a new high for the move. From Wolf Richter at wolfstreet.com:
But no blood in the streets. Just a rate-hike cycle at work.
Today the US Treasury 10-year yield broke out of its recent range and surged 8 basis points to 3.08% at the close, the highest since July 2011. The price of a bond falls when its yield rises.
The odds have been stacked against the bond market for a while: the Fed's rate-hike cycle, the Fed's QE Unwind, a surge in government spending, the tax cuts, and the ensuing onslaught of debt issuance that is looking for buyers.
In addition, and with impeccable timing, the biggest US corporations with the most "cash" parked "overseas" are now "repatriating" this "cash" and are using it to buy back their own shares. What this really means for the bond market is this: This "cash" isn't cash but is invested in securities, mostly US Treasury securities, corporate bonds, and the like. Companies are now selling those securities in order to use the proceeds to buy back their own shares at a record pace. So these huge bond buyers have turned into net sellers.
In other words, to entice enough new investors into the market, yields have to rise to make those bonds more attractive.
While short-term Treasury yields have been rising for a couple of years in a fairly consistent manner, longer-term yields are not so well-behaved and, despite the Fed's efforts to push them up, are subject to messy market forces and speculative positions, including large short positions. And so the 10-year yield has moved in leaps followed by some backtracking until the next break-out and leap. Note that the most recent back-track only lasted a couple of months and barely shows up on this chart: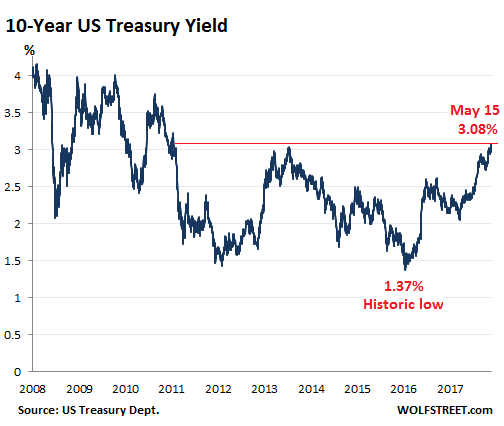 The two year yield ticked up to 2.58%, the highest since July 2008: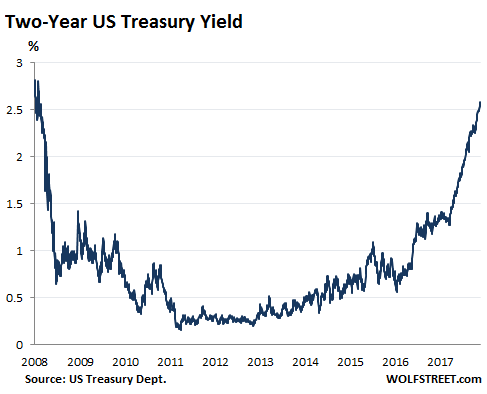 The difference (spread) between the two-year yield and the 10-year yield widened from 45 basis point to 50 basis points (0.5 percentage points), as the 10-year yield rose faster today (by 8 basis points) than the two-year yield (3 basis points).
To continue reading: US Treasury 10-Year Yield Breaks Out, Mortgage Rates Jump to Highest in 7 Years