The home sales index has been moving from the upper left on the graph to the lower right. From Wolf Richter at wolfstreet.com:
Sales decline to steepen, no respite in sight.
The reasons for the housing-market downturn are in the eye of the beholder, as we will see in a moment. But whatever the reasons for it may be, the data on the housing market is getting uglier by the month.
Pending home sales is a forward-looking measure. It counts how many contracts were signed, rather than how many sales actually closed that month. There can be a lag of about a month or two between signing the contract and closing the sale. This morning, the National Association of Realtors (NAR) released its Pending Home Sales Index for November, an indication of the direction of actual sales to be reported for December and January. This index for November fell to the lowest level since May 2014: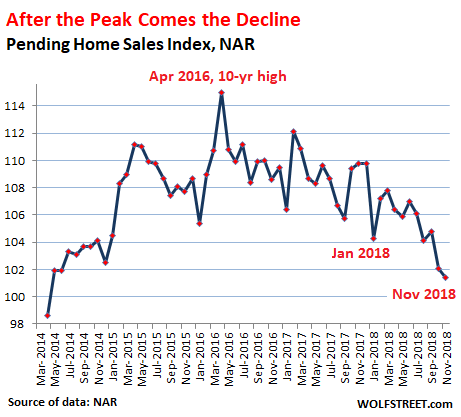 "There is no reason to be concerned," the report said, reassuringly. And it predicted "solid growth potential for the long-term."