February set a new all time record for a monthly budget deficit, $234 billion. The record will probably not stand for long. From Tyler Durden at zerohedge.com:
Another month, another frightening jump in the US budget deficit. And this time it was a record.
According to the latest Treasury data, the US budget surplus in February – traditionally the worst month of the year due to tax refunds – was a whopping $234 billion, missing the $227 billion deficit expected, and well worse than the $214 billion deficit recorded last February. And even though there may have been one-time tax refund and government shutdown factors at play, the February deficit was also the biggest budget deficit on record.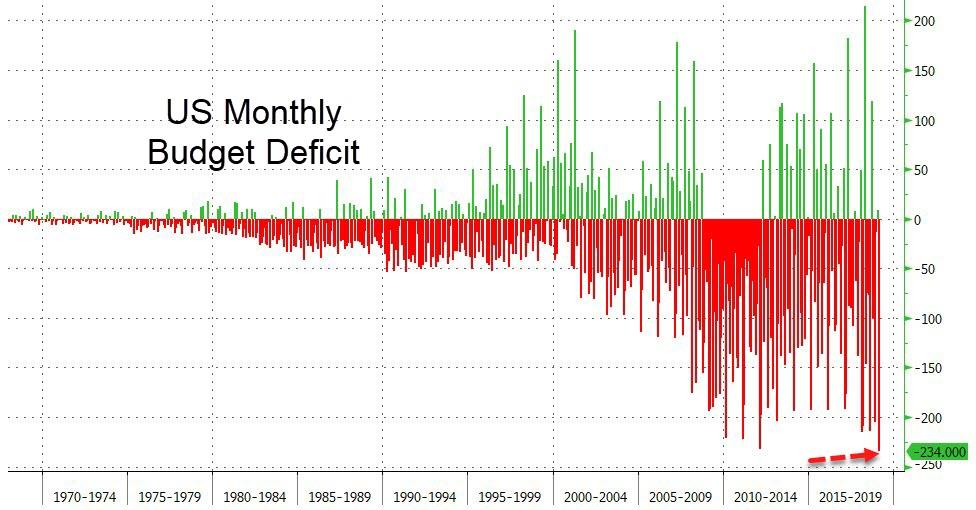 For March, receipts rose 7.5% y/y to $167.3BN while outlays rose 8.2% to $401.2BN in Feb. As a result, the budget deficit for the first five months of the fiscal year, widened to $544 billion, a whopping 39% higher than the $391 billion reported for the same period last year, largely the result of the revenue hit from Trump's tax cuts and the increase in government spending. The deficit was the result of a modest drop in fiscal YTD receipts to $1.278 trillion, while spending jumped 9% to $1.823 trillion.