Jeff Gundlach is probably the best bond fund manager in the world, and a number of his predictions have been spot on, including his 2016 prediction of a Trump victory. From Tyler Durden at zerohedge.com:
Back at the start of 2016, when nobody else would even consider such an outcome, DoubleLine Capital CEO Jeff Gundlach shocked the economic, financial and political establishments when during the January Barron's roundtable of that year, he predicted that Donald Trump would become the next US president. He was right.
Fast forward to today when one week before the elections, and in an environment when most polls predict that Biden will crush Trump and where Nate Silver gives Trump just a 13% chance of defeating Biden, Jeffrey Gundlach is predicting another victory for President Donald Trump.
As Financial Advisor magazine reported, during a Tuesday webcast as part of Schwab's 2020 IMPACT conference, Gundlach said that despite polls, analysis and betting odds that suggest otherwise, Trump is likely to outpace former Democratic vice president Joe Biden in the contest.
"The polls right now say he isn't going to win, but they said that four years ago," said Gundlach referring to the following chart.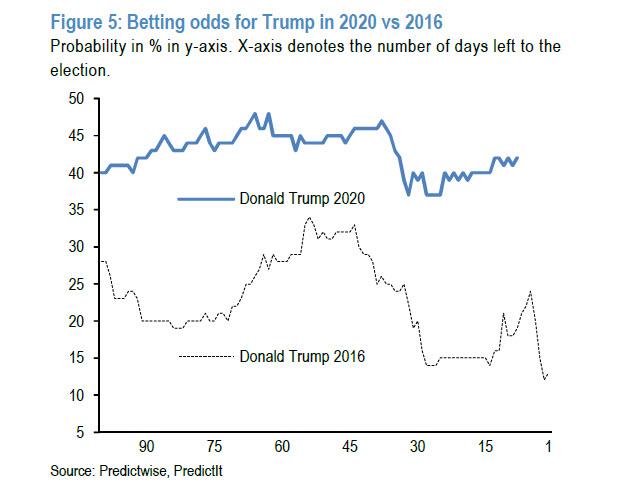 "Mind you, my conviction is way lower than it was four years ago. But back in [that period], when Trump was little more than an asterisk in the betting odds, I predicted he was going to win. This one is much more murky, but in my eyes, it favors a Trump win."