This is how totalitarianism announces itself. From Graham Dockery a rt.news: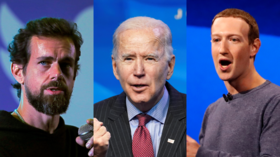 Despite the mewling of the spineless American media, the real coup this week wasn't committed by President Trump's supporters, but by his opponents. They're writing a manual on modern regime change, and it's ready for export.
When President Donald Trump's supporters forced their way inside the US Capitol on Wednesday, they did not act as a unified force bent on seizing power. Instead they snapped selfies, looted souvenirs, and engaged in petty vandalism. While the rampage ended in tragedy for the protester shot dead by police, the police officer fatally injured, and the three others who suffered "medical emergencies" and died, it was soon snuffed out and Congress returned to work that evening to certify Joe Biden's electoral victory.
Their ringleader even urged them to go home and committed himself to the "seamless" transition of power to Joe Biden. Worst. Coup. Ever.
Yet politicians on all sides and their enablers in the media swiftly declared it an "armed insurrection," a "coup attempt," and an example of "domestic terrorism." 'Never Trump' Republican Kurt Bardella described Wednesday's events as "symbolically worse than Pearl Harbor or 9/11," while pundits described the littering and hooliganism as an assault on the "temple of our democracy"  – you know, the same temple where respectable politicians vote on which foreign land their young soldiers will die in next.