Interest rates for US government debt have been creeping up, but they're probably just getting started. From Wolf Richter at wolfstreet.com:
Bond Market Smells a Rat: Inflation. So the Fed seems OK with rising long-term Treasury yields.
The bond market smells a rat, but the mortgage market and the high-yield bond market are holding their nose and plowing forward: The 10-year Treasury yield rose to 1.21% on Friday, the highest since February 26, when markets began their gyrations. This yield has more than doubled (+133%) from the historic low of 0.52% on August 4.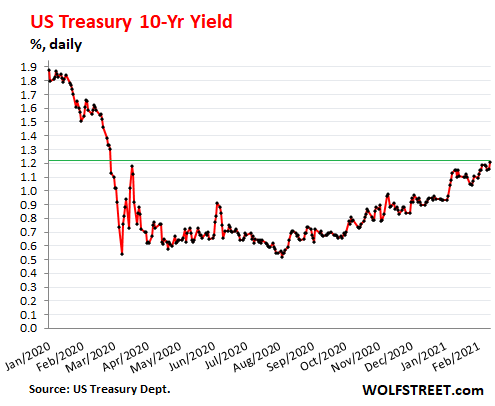 In early August, Wall Street hype mongers were still out there pushing the meme that the 10-year yield would fall below zero and be negative for all years to come, in order to entice buyers to buy at that minuscule yield. And had the yield dropped below zero, those buyers would have made some money – especially those with highly leveraged bets.
Alas, when potential buyers need to be enticed with a lower price, which is what began to happen after August 4, the price of that bond falls and therefore the yield rises, and those who'd bought at the lower yields are losing money. For example, at the most basic unleveraged level, the iShares Treasury Bond ETF [TLT], which tracks Treasury securities with at least 20 years of maturity left, fell 1.24% on Friday and is down 14.3% since August 4.