It's not the coronavirus that's killing the economy, its the response, notably lockdowns, that done the trick. From Brandon Smith at zerohedge.com:
Authored by Brandon Smith via Birch Gold Group,
In recent economic news, headlines are being dominated by concerns over rising bond yields. Increased bond yields are a sign of a possible spike in inflation and, logically, they call for the Federal Reserve to raise interest rates in order to prevent that inflation.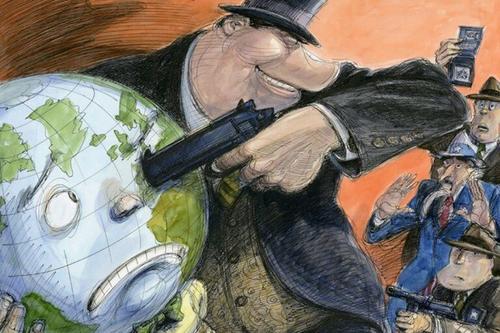 Higher bond yields also mean there is a competitive alternative to stocks for investors – both factors that could trigger a plunge in the stock market.
If one studies the real history behind the stock market crash during the Great Depression, they will find that it was the Federal Reserve's interest rate hikes that caused and prolonged the disaster after they had created an environment of cheap and easy money throughout the 1920s. Former Chairman Ben Bernanke openly admitted the Fed was responsible back in 2002 in a speech honoring Milton Friedman. He stated:
"In short, according to Friedman and Schwartz, because of institutional changes and misguided doctrines, the banking panics of the Great Contraction were much more severe and widespread than would have normally occurred during a downturn. Let me end my talk by abusing slightly my status as an official representative of the Federal Reserve. I would like to say to Milton and Anna: Regarding the Great Depression. You're right, we did it. We're very sorry. But thanks to you, we won't do it again."
This then raises the question – inflation or deflation? Will the Fed "do it again?"
Probably not in exactly the same way, but we will see elements of both inflation and deflation soon in the form of stagflation.
It's a Catch-22 that the central bank has created, and many (including myself) believe that the Fed has created the conundrum deliberately. All central banks are tied together by the Bank for International Settlements (BIS) and the BIS is a globalist institution through and through. The globalist agenda seeks to trigger what they call the "Great Reset," a complete reformation of the global economy and capitalism into a single one world socialist system… managed by the globalists themselves, of course.
In my view the Fed has always been a kind of institutional suicide bomber; its job is to self-destruct at the right moment and take the U.S. economy down with it, all in the name of spreading its cult-like globalist ideology.
The only unknown at this point is how they will go about their sabotage. Will the central bank continue to allow inflation to explode the cost of living in the U.S., or will they intervene with higher interest rates and allow stock markets to crash?
Either way, we face a serious economic crisis in the near future.