Russia and China have done a masterful job of countering the US's designs on a unipolar world order, of course headed by the US. From Pepe Escobar at zerohedge.com:
As Sino-Russo-Iranophobia dissolves in sanctions and hysteria, mapmakers carve the post-unilateral order…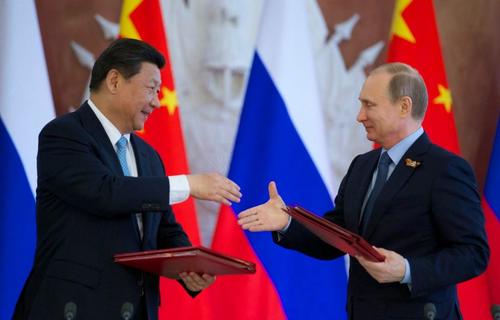 It's the Nikolai Patrushev-Yang Jiechi show – all over again. These are the two players running an up and coming geopolitical entente, on behalf of their bosses Vladimir Putin and Xi Jinping.
Last week, Yang Jiechi – the director of the Office of the Foreign Affairs Commission of the Chinese Communist Party's Central Committee – visited Russian Security Council Secretary Nikolai Patrushev in Moscow. That was part of the 16thround of China-Russia strategic security consultations.
What's intriguing is that Yang-Patrushev happened between the Blinken-Lavrov meeting on the sidelines of the Arctic Council summit in Reykjavik, and the upcoming and highest-ranking Putin-Biden in Geneva on June 16 (possibly at the Intercontinental Hotel, where Reagan and Gorbachev met in 1985).
The Western spin before Putin-Biden is that it might herald some sort of reset back to "predictability" and "stability" in currently extra-turbulent US-Russia relations.
That's wishful thinking. Putin, Patrushev and Lavrov harbor no illusions. Especially when in the G7 in London, in early May, the Western focus was on Russia's "malign activities" as well as China's "coercive economic policies."
Russian and Chinese analysts, in informal conversations, tend to agree that Geneva will be yet another instance of good old Kissingerian divide and rule, complete with a few seducing tactics to lure Moscow away from Beijing, an attempt to bide some time and probing openings for laying out geopolitical traps. Old foxes such as Yang and Patrushev are more than aware of the game in play.