There are many nuances and details that defy simplistic analysis concerning Afghanistan and its place in Asia after the Americans leave. From Pepe Escobar at The Asia Times via zerohedge.com:
Deploying diplomatic skills refined from Doha to Moscow, the Taliban in 2021 has little to do with its 2001 incarnation…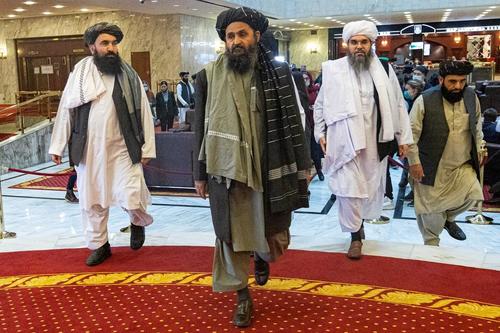 Taliban co-founder Mullah Abdul Ghani Baradar (center) and other members of the Taliban arrive to attend an international conference in Moscow on March 18, 2021. Photo: Alexander Zemlianichenko / AFP
A very important meeting took place in Moscow last week, virtually hush-hush. Nikolai Patrushev, secretary of the Russian Security Council, received Hamdullah Mohib, Afghanistan's national security adviser.
There were no substantial leaks.
A bland statement pointed to the obvious:
They "focused on the security situation in Afghanistan during the pullout of Western military contingencies and the escalation of the military-political situation in the northern part of the country."
The real story is way more nuanced. Mohib, representing embattled President Ashraf Ghani, did his best to convince Patrushev that the Kabul administration represents stability. It does not – as the subsequent Taliban advances proved.
Patrushev knew Moscow could not offer any substantial measure of support to the current Kabul arrangement because doing so would burn bridges the Russians would need to cross in the process of engaging the Taliban. Patrushev knows that the continuation of Team Ghani is absolutely unacceptable to the Taliban – whatever the configuration of any future power-sharing agreement.
So Patrushev, according to diplomatic sources, definitely was not impressed.
This week we can all see why. A delegation from the Taliban political office went to Moscow essentially to discuss with the Russians the fast-evolving mini-chessboard in northern Afghanistan. The Taliban had been to Moscow four months earlier, along with the extended troika (Russia, US, China, Pakistan) to debate the new Afghan power equation.