Clearly SLL is a "domestic terrorism threat"; I've fought Covid mandates since they came out. From Tyler Durden at zerohedge.com:
On Friday the Department of Homeland Security (DHS) issued an almost unbelievable new "terrorism" alert contained in a so-called 'awareness bulletin'. While focused heavily on the threat posed by "false narratives and conspiracy theories about the 2020 election" – clearly making connections to Jan.6, the bulletin pivoted to unprecedented territory. 
It's nothing new for the Biden administration to warn and hype about "calls to violence" related to the "Capitol insurrection" – but what is new and unprecedented is its warning about potential "attacks" by "violent extremists" related to COVID-19 "conspiracy theories".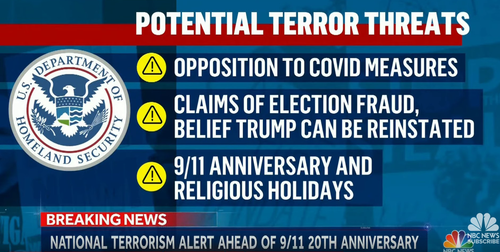 The document was the result of a DHS meeting held with top officials and high ranking intelligence officers across multiple agencies from departments in New York, Washington, and Las Vegas, NBC News reported.
The threat bulletin describes that extremists "may seek to exploit the emergence of COVID-19 variants by viewing the potential re-establishment of public health restrictions across the United States as a rationale to conduct attacks."
This is the first time to our knowledge that "terrorism" is linked to the movement among large groups of skeptical Americans to push back against local, state and federal efforts to impose drastic mask, vaccine, and so-called 'COVID passport' mandates.