Nobody has locked down harder than Australia, but there's a certain inevitability to the Covid virus and its variants. They are small and there are lots of them. So while relatively laissez faire Sweden is now enjoying low case counts and death rates, the virus is catching up with totalitarian Australia. You can tyrannize but you cannot hide. By the way, one of my SLL articles, "The Inversion," renamed "The 'Great Inversion' Will Not Survive Reality," was republished in a book released this week called UNCHAIN AUSTRALIA, an anthology put together by Michael Darby that explores the lockdown injustices. It's got some great articles and it's available on Amazon. Back to the article at hand, from Tyler Durden at zerohedge.com:
Something "unexpected" is happening in Australia, which is following the "science" to a tee: despite round after round of increasingly draconian lockdowns which have also led to a growing number of violent protests across the nation…
… the number of Covid cases continues to rise precipitously and on Saturday the country set a record with 914 infections, its highest daily figure, even as the southern and eastern states of New South Wales, Victoria and the Australian Capital Territory remain under a strict lockdown.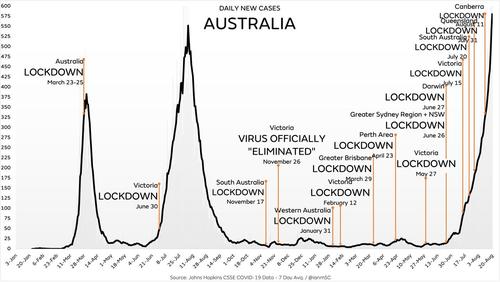 New South Wales saw 830 new infections on Sunday, despite stepped-up efforts, and the Australian Capital Territory, home to the capital, Canberra, had 19. Nationwide, the tally of active cases stands at nearly 12,000. The southeastern state of Victoria, in its sixth lockdown since the start of the pandemic, recorded 65 locally acquired cases on Sunday.
This outcome, which should not have happened if lockdowns worked, prompted Prime Minister Scott Morrison to "rethink" the extremely unpopular strategy of escalating lockdowns, according to Bloomberg. Speaking on Sunday, the PM said that Australia will stick to its lockdown strategy against the coronavirus until at least 70% of its population is fully vaccinated, but after that it will have to start living with the virus, effectively giving up on its "zero covid" strategy.