The betting here is that John Durham's investigation will end up being an exercise in damage control for the Democrats, but we're willing to be wrong on that. From Roger Simon at The Epoch Times via zerohedge.com:
A bit more information has emerged from the John Durham investigation into Russiagate (or "Spygate,"as it is known hereabouts).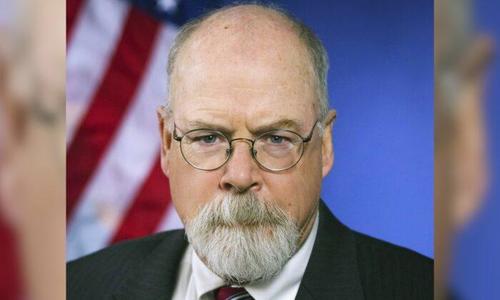 This is due to what is likely a leak from one or more of the targets to their loyal propagandists at CNN. (In the article, the reporters do their best to downgrade the scandal they fanned for years as no more than a trivial "dirty trick" that all campaigns do. There's a well-known word for that adapted into the English language.)
The import of these leaks is usually to soften the impact on the target(s), but it also gives us another indication Durham is still active.
In this instance, more subpoenas have been issued, including some to Perkins Coie. That's the Democratic National Committee's and Hillary Clinton's law firm that only a few weeks ago defenestrated—for reasons unspecified, but we can guess— one of Hillary's principal lawyers, Mark Elias.
The other Clinton campaign lawyer, Michael Sussman, has already been charged with lying to the FBI on the matter of alleged Trump links to the Russian Alpha Bank, ties that turned out to be non-existent.
This time, however, we learned that "Tech Executive-1" in the Sussman indictment is Rodney Joffe, a rather distinguished cybersecurity expert, but not in this case because he was apparently involved with the same attempted deception.
Mr. Joffe was evidently no fan of Donald Trump. How far he took his enmity we shall see as this plays out.
Or we won't. Therein lies the problem. Many are worried that Durham will only take the investigation so far and then peter out.
A real Russiagate investigation has myriad possible targets with very famous names, some of the most famous, in fact. Yet negativism about the results is everywhere in conservative circles with some justification.