Government jumps into action to distribute panic about a Covid variant that's indistinguishable from the common cold. Make sure you get a booster shot and further destroy your own immune system. By now, if you don't see this scam for what it is you deserve what you get. From Tyler Durden at zerohedge.com:
Last night, with the number of new COVID cases surging across the US, the CDC revealed that the number of new COVID cases caused by the omicron variant has already grown to 73% during the last week, up from the low teens a week ago, and less than 1% the week of the Thanksgiving holiday, when evidence of the new variant with some 50 mutations to help it avoid vaccine and natural immunity was first shared with the WHO.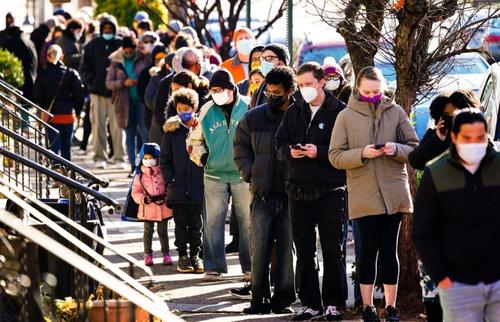 But in the US, at least, one of the most surprising aspects of this new wave is the fact that the states with the highest vaccination rates are seeing the biggest surge in new cases. This includes – but isn't limited to – New York, New Jersey and the six New England states, CT, MA, NH, VT, MA and RI. A few days ago, the RI chapter of the American College of Emergency Medicine warned in a letter to the governor and the top public health official that the hospital system in the state is "currently collapsing". In Maine, and a handful of other more populous states, the National Guard has been called in to help with hospital staffing shortages.
And just last night, the NHL became the first US pro sports league to delay all play across all its teams due to the rising COVID numbers, although game cancellations have afflicted the NFL and NBA.
President Biden is set to address the public Tuesday and lay out his plans to respond to the latest COVID "emergency" not with lockdowns and new restrictions, but with plans to get more COVID tests into the hands of the public.