Unless we get massive deflation in a hurry (unlikely) bonds may be the single worst investment out there. From Wolf Richter at wolfstreet.com:
The two-year Treasury yield started rising in late September, from about 0.23%, and ended the year at 0.73%. In the five trading days since then, it jumped to 0.87%, the highest since February 28, 2020. Most of the jump occurred on Wednesday and Thursday, triggered by the hawkish Fed minutes on Wednesday.
Markets are finally and in baby steps starting to take the Fed seriously. And the most reckless Fed ever – it's still printing money hand-over-fist and repressing short-term interest rates to near 0%, despite the worst inflation in 40 years – is finally and in baby steps, after some kind of come-to-Jesus moment late last year, starting to take inflation seriously. Treasury yields are now responding: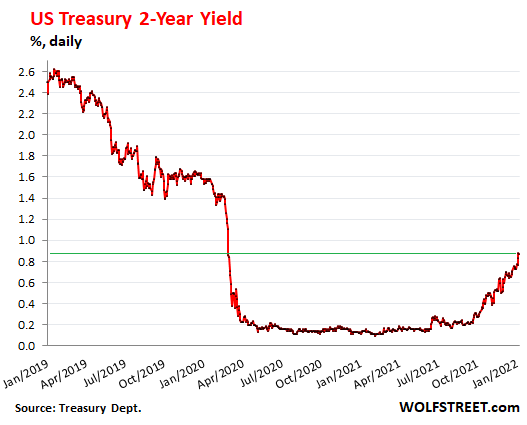 Jawboning about Quantitative Tightening.
Even though the Fed hasn't actually done any hawkish thing, and is still printing money and repressing interest rates to near 0%, it is laying the groundwork with innumerable warnings all over the place, from the FOMC post-meeting presser on December 15, when Powell said everything would move faster, to hawkish speeches by Fed governors, to the very hawkish minutes of the FOMC meeting, which put Quantitative Tightening in black-and-white.